Pictures from the 2007 Exeter Trial
This was an absolutely filthy trial, with rain throughout the night run down from Popham (at the A303/M3 junction). Despite our hopes, the downpours continued with just a few short breaks through the daylight hours also. Muddier sections were like swamps, although some rockier ones were washed fairly clean to competitors' advantage. We failed to reach bronze medal position due to the reverse-gear gate breaking early on, making the Special Tests a nightmare. However, this was the first year I've made it clean up Simms...
Navigating for the first time was my son Alex, who turned out to be excellent. Not sure whether the bug has fully bitten yet...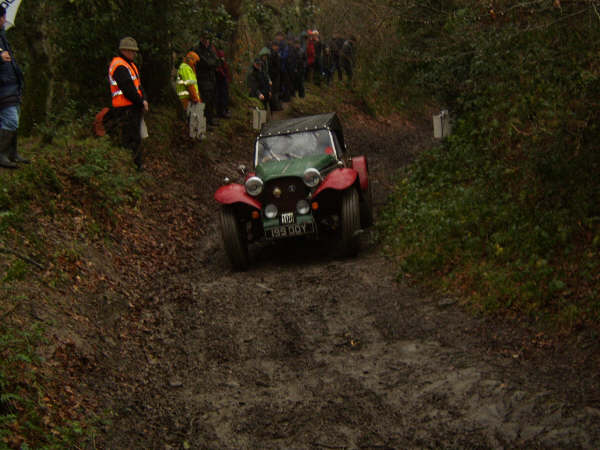 Tillerton Steep. This was a nasty wet hill this year, with the huge bumps you can see very slippery - one of our successes though. The photo was taken by Duncan Stevens.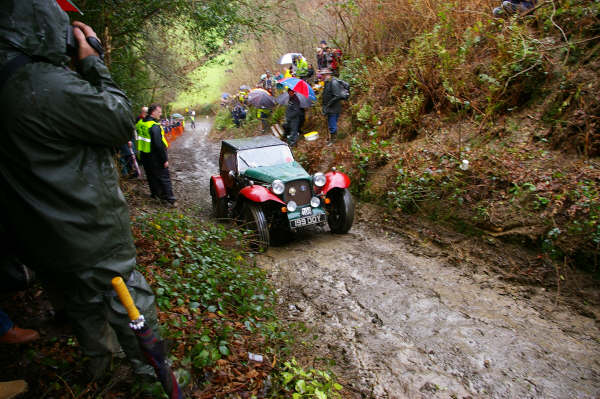 This is our successful climb of Simms at Ilsington. Westormed up here without any of the grip problems of previous years. Photo taken by John Salter.
There's a video of us doing this at http://www.youtube.com/watch?v=_VuAPvSxms8, which gives a better idea of what it's like.